Walt Disney's Biography
Walt was born on December 5th 1901 in Chicago, Illinoise to Flora and Elias Disney. In 1906, his father bought a farm halfway between St. Louis and Kansas City, Missouri. However, Walt's two older brothers, Ray and Herb didn't like living on the farm and decided to go back to Kasas City. Eventually, the rest of the family followed, after Elias became ill and could no longer manage the farm.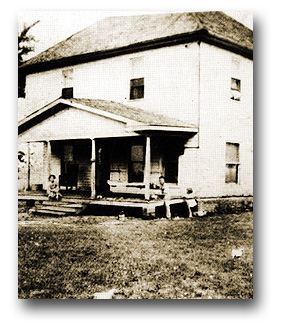 The Disney Farm in Marceline
In Kansas City, Walt helped his father deliver newspapers for a paper route. Walt did everything he could to earn money. He got behind in by two grade levels, but his teacher, Daisy A. Beck, encouraged him to do what he loved, which was drawing cartoons and acting at the time (he was a big Charlie Chaplin fan). He would get up in front of the class and draw on the board and tell stories to his classmates. Soon, Walt began taking classes at the Kansas City Art Institute on Saturdays.
He and a friend, Walter Pfeiffer, performed at their school (Benton) and local movie theatres, doing Vaudville acts.
At age 16, Walt lied about his age and joined the Red Cross Ambulance Corps. He claimed that he was 17. He wanted to join the NAVY, but was too young. He was desperate to fight in WWI. During this time, Walt did many war-related cartoons, showing his interest in the war.
Walt was sent to France for 2 years during the war. When he came home in 1919, his father offered him a job with O'Zell, a jelly manufacturer in Chicago, Elias had invested in. Walt refused his offer, he only wanted to be an artist. He moved in with Roy and Herbert.
Roy referred Walt to the Pesmen-Ruben Commercial Art Studio, where Walt recieved his first art-related job as an apprentice, as an advertising artist for $50 per month. However, the farm equipment catalogue company, that he began working for, soon went out of business.
Luckily, though, Walt and a friend named Ubbe Iwwerks, a guy he knew from the Pesmen-Ruben Commercial Art Studio, started a business (Iwwerks-Disney) and began working for the Kansas Slide Company in 1920, making cartoon commercials.
Soon Walt began experimenting with animation. He rented his father's garage and turned it into an art studio where he produced a series of sample cartoons he called Laugh-O-Grams and sold them to a local Kansas City theater (Newman Theatre).
Soon after, Walt's family moved to the west coast and Walt was left alone. He quit his job and rented a small place, working on "Little Red Riding Hood". He hired six employees, including Ubbe Iwwerks, to help. Then he made a deal with Pictorial Clubs to produce a series for them for $11,000. The deposit was $100 for the series. Walt was thrilled. However the company went out of business, and Walt never recieved the rest of his money. As a result, Walt lost his apartment and moved into his office.
In 1922, a local dentist paid Walt $500 to make a film showing children how to properly care for their teeth. Walt used the money to get started on the production of "Alice's Wonderland".
At age 21, he moved to Hollywood with his Uncle Robert. For a short time, Walt worked as a rider in a big cavalry charge.
Walt began working on animation in his uncle's garage. M.J. Winkler, in Kansas City, bought his Alice Series for $1500 a piece and Roy became his business partner ("Walt dreamed dreams, Roy paid for them"). In 1923, they started the Disney Brothers Studio.
Walt hired his first animator in 1924 and moved his company to a larger building. He married one of his ink and paint girls, Lilian Bounds, from Lewiston, Idaho.
Charlie Mintz, M.J. Winkler's husband, took over the Winkler's business and ordered another 18 Alice cartoons at $1800 a piece.
Roy married his Kansas City girlfriend on April 11th 1925 in California and Walt put a down payment on a one-story studio on Hyperion Avenue. He and Lily married on July 13th that year at her uncle's house in Lewiston, Idaho. Afterwards, they went to Portland to meet Walt's family.
In 1925, Walt began doing less drawing and mostly supervised the other artists. By 1926, Mintz contracted for more Alice comedies and began paying for them on time, which he hadn't previously done in the past. Only now he was paying $1500 a piece for them.
Walt and Lily moved into a larger apartment and renamed the Studio: Walt Disney Productions.
In 1927, Walt began producing "Oswald the Lucky Rabbit" for Universal Pictures, under Mintz, for $2250 each. In February, Walt's contract with Mintz ended, so he traveled to New York by train, with Lily, in hopes of renewing the Oswald contract. But instead, Mintz tells him that all of his animators left him join Mintz's staff and now Mintz had the rights to Oswald.
On the train ride home, Walt created "Mortimer Mouse" as a replacement of Oswald. Lily cames up with the name "Mickey" instead.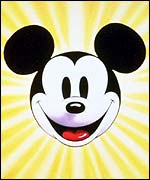 While Oswald was still in production at the Disney Studio, Walt and Ub Iwerks (he updated his name) began working on Mickey's first adventure in secret. Walt produced "Plane Crazy" and "Gallopin' Gaucho". In order to sell these cartoons Walt made a third Mickey cartoon, "Steamboat Willy", the first sound cartoon, which Harry Reichenbach paid him $1000 to show in his theatre, "New York's Colony Theatre". Carl Stalling wrote the music for three other Mickey cartoons, while Walt was in New York.
By 1929, Walt introduced "Silly Symphonies", trying to break away from the gags everyone else was using in their cartoons. The first Silly Symphonies was "Skeleton Dance". Walt's sound equipment provider and Mickey distributer, Pat Powers, said he couldn't sell "Skeleton Dance", so Walt convinced a Hollywood theatre to show it. The public loved it and Powers quickly changed his mind.
In 1930, Powers offered Walt $2500 a week to give up his business and work for him. When Walt refused, Powers revealed to him that Ub had already accepted his offer to leave Disney. Walt couldn't believe it. After Ub left the studio, C. Stalling (Composer), left also. However, in 1940, Ub returned.
Walt's contract with Powers was now broken, so Walt signed a new contract with Columbia Pictures.
By 1931, Walt Disney Production had 75 employees.
In 1930, Roy's son, Roy Edward Disney, was born.
Walt took up polo as a relaxing sport to ease the tension he felt and he urged the men who worked for him to as well.
In 1932, during the Great Depression, Pluto and Goofy, formerly "Dippy Dawg", had arrived and the studio migrated to United Artists.
Herman "Kay" Kamen became the guy who handled the merchandising of the Disney Products, which was a 50/50 split.
The production of his next Silly Symphonies series, "Flowers and Trees", was almost finished, when Walt decided that he wanted to redo it in color, which had just come around. He signed a contract with Technicolor that guaranteed that no other cartoon maker would be allowed to use the same process for 2 years. That year, Walt won an Academy Award for Flowers and Trees and a special award for the "Creation of Mickey Mouse".
Walt began hiring instructors from Chouinard Art Institute to come to the studio and teach his artists. He also began using storyboards to improve the cartoon's plots. In 1933, it all paid off when the "Three Little Pigs", a Silly Symphony cartoon, won an Academy Award.
Happily, on December 18th 1933, Walt's first daughter, Diane Marie Disney, was born. Walt wanted more kids, however, Lily miscarried several times, so they adopted another daughter, Sharon Mae Disney in 1937.
By 1934, Walt's staff had reached 200, including a full orchistra, 40 animators, 45 Assistant Animators and 300 more artists in 1935. Walt also hired a man, Clarence Nash, to do odd sounds for the cartoons and he later provided the voice of Donald Duck.
On December 21st 1934, the production of "Snow White", also known as "Disney's Folly", began and was in production for about 3 years.
"Band Concert" was the 1st color Mickey cartoon.
In 1936, Walt invented the "Multiplane Camera, used in the Silly Symphony "Old Mill" and "Pinocchio".
Sadly, in November 1938, after Walt's parents moved into a house he had bought for them in Hollywood, Flora died of gas poisoning from the gas furnace in the house.
In 1938, Walt began producing "Pinocchio", "Fantasia", and "Bambi". Theatres wanted more dwarfs from Snow White, but Walt didn't like sequels.
One of Walt's artists, John Hench, was assigned the ballet sequence of Fantasia, but he didn't like ballet. He knew nothing about it, so Walt made him see a ballet performance and he loved it!
Walt spent $3 million to build a new studio in Burbank, Ca.
In September 1939, WWII began which meant that foreign markets were cut off and almost half of the studio's income was gone.
Pinocchio didn't make enough money to cover its $26 million cost, Bambi was taking a long time to finish because of its attention to details, and Fantasia's special sound system couldn't be used because the U.S. government needed it for national defense.
RKO, the new Disney distributor, cut Fantasia from 2 hours, down to 82 minutes, in order for it to be part of a double feature.
At $4.5 million in debt, Walt decided to sell stock in the company for $25 a share. The Disney's loyle employees recieved 1/5 of the stock issued.
The Screen Cartoonists Guild wanted to unionize the Disney Studio and Walt's union-oriented employees went on strike. The studio's lawyer, Gunther Lessing, tried to pursuade them that they didn't need an outside union, but they still wanted one.
In 1941, Walt went on a trip to South America, gathering information for upcoming cartoons and features. While there, Elias died. When he returned, the strike was settle and employees had won the battle. As a result, Walt no longer thought of his employees as "family".
"Dumbo", released in 1941, on Halloween, during the strike, was a success.
On the night of December 7th 1941, Walt's Studio was taken over by 700 U.S. soldiers, after the attack at Pearl Harbor. They were there to protect a nearby Lockhead aircraft plant for 8 months. Because of this, the studio stopped the production of "Alice In Wonderland" and "Peter Pan" and began producing war effort training films, such as "Aircraft Carrier Landing Signals" and "Basic Map Reading". One film, "Der Fuehrer's Face", about Donald Duck in "Nutziland", won an Academy Award in 1943.
Walt's film, "Victory Through Air Power", may have actually influenced the enormous amount of air support during the D Day invasion against the Nazis.
At home, Walt was a playmate to his two children, Diane and Sharon. He was encouraging and sentimental with family as opposed to the studio, where he was always very work-oriented and kept his feelings and family life privat. He spent weekends with his girls. He and Lily would often argue about Walt's desire to raise animals (he loved animals). She didn't want animals in the house.
Walt's live-action/cartoon film, "Song of the South", was criticized for being racist and uncreative. Avoiding cartoons, Walt made a film about Seals, called "Seal Island", which won an Academy Award and was the start of true-life adventure films.
Walt's distributer, RKO, discouraged him from producing any more live-action films, but he did them anyways (Treasure Island, 1948). He continued working on "Alice In Wonderland" and "Peter Pan", which were in the planning stage before WWII. He also began "Cinderella".
Although Walt hadn't made it past his freshmen year in highschool, he was said to be, by many, the most educated mand they had ever meant. He had a desire to learn new things and meet new people. He loved to see "how things worked".
Walt also loved trains. In 1944, when he and Lily bought a new house, Walt had a train track built on his property, with a real train. He was also interested in miniatures.
Disneyland first opened on July 17th 1955. It started with Walt's desire for a clean, safe theme park for children and their parents to enjoy. Walt's fisrt vision of Disneyland was an amusement area across the street from his studio. His park was inspired by the Tivoli Gardens in Copenhagen, Denmark, on a visit to Europe. Walt had gambled his life savings just to start Disneyland.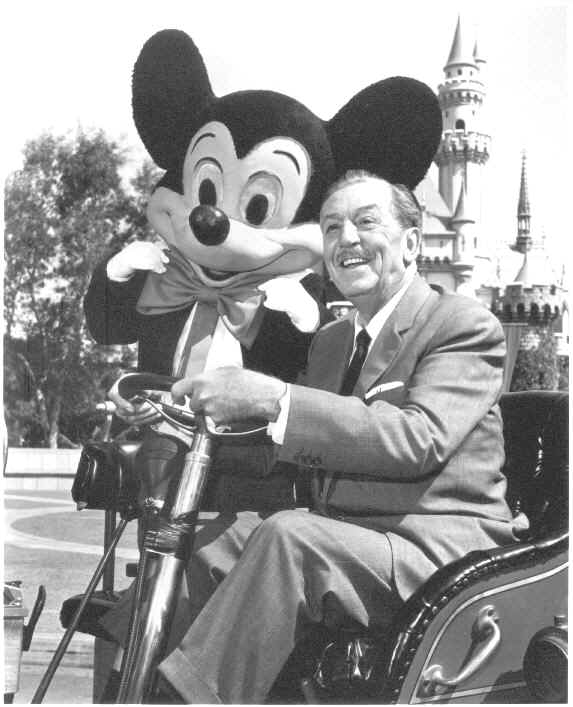 In 1950, Cinderella was released and was a big hit.
In 1951, Alice In Wonderland was released and was not as big of a hit.
In 1953, Peter Pan was released and did better.
When Walt's distributer, RKO refused to distribute his feature-length documentaries, they set up their own company called Buena Vista.
In December 1952, Walt started Walt Disney Incorporated, later called "WED" (Walter Elias Disney), to design and build Disneyland. It was staffed with "Imagineers" (designers, architects, writers, and artists). The small company, WED, was called Disney's "laughing place" because he would go there after visiting the studio and freely and happily express his ideas for Disneyland with no concern for the cost of building. He hired "Stanford Research Institute" to help him decide where the park should be located. They decided on Anaheim, Ca. because it had a good climate, it was close to the freeway, and there was enough land (180 acres of orange groves).
To raise the money for the park, Walt entered television. In 1950, his show "One Hour in Wonderland" promoted Alice In Wonderland.
In September 1953, Walt's former Disney artist and friend, Herb Ryman, drew a full-color, heavily detailed drawing of the park, which Roy took with him to New York to convince a television network to promote their park through a t.v. series. CBS and NBC refused. But ABC agreed, hoping that Disney would improve their reputation. Now ABC owned 1/3 of the park and also helped Disney produce comics and books.
In 1954, Diane married Ron Miller and a new show: "Disneyland", which promoted the park, was introduced on October 27th. It was filmed in color, even though television was still in black and white. Walt had "looked ahead" to the future once again. The series became one of the top 15 rated programs.
Walt won Oscars for: "Toot, Whistle, Plunk, and Boom", "The Living Desert", "The Alasin Eskimo", and "Bear Country" in 1954.
Next, Walt produced the first miniseries, "Davy Crockette".
In 1955, "The Man In Space" aired on television, about the possibilities of space travel and landing on the moon, which later became a reality.
Walt used water pressure to power the mechanical animals in the Jungle Cruise river ride at Disneyland because he was affraid that a child might get electricuted if he used electricity.
Walt and Lily celebrated their 35th Anniversary at Disneyland, where Walt had a private apartment over the firehouse of Main Street.
Walt refered to the opening day of Disneyland as "Black Sunday", because nothing went right. For example, fake invitations had been sent out, causing the park to overflow with people and they didn't have enough time to install enough drinking fountains, so people complained that they were just trying to make money on soft drinks.
On October 3rd 1955, "Mickey Mouse Club" aired on ABC, who paid Walt $1.5 million for the park to also produce a kid's program to compete with "Howdy Doody". In March he called them "Mouseketeers". But mysteriously, the Mickey Mouse Club ended in 1959, despite its popularity.
Walt's other daughter, Sharon, married Bob Brown in 1959, shortly after Walt began recovering from a kidney stone.
Soon, Walt took over the food operation at Disneyland due to complaints and low quality. He wanted the food to be the best, even if it meant making no profit.
Walt's idea for the ride "Matterhorn" came while working on the film "Third Man on the Mountain".
"Sleeping Beauty", premiering in 1959, was the most expensive film to produce.
The idea for "Mary Poppins" came to Walt when he was reading a copy of the book in 1944, which belonged to his daughter. He and Roy sough out P.L. Travers, the author, for her permission to make it into a film and change some of the characters and plot a bit. Finally, she agreed in 1960 and the film premiered on August 27th 1964.
The song in Mary Poppins, "Supercalifragilistic" was refered to as "Supercal".
Walt's favorite song from Mary Poppins was "Feed the Birds".
In order to learn more about how to develop new rides and attractions, Walt created four major attractions for New York's 1964 World Fear.
Walt avoided death. He never even visited his parent's at the Forest Lawn Memorial Park cemetary. He also didn't attend his brother Herbert's funeral.
In 1962, the Chouinard Art Institute, which Walt had always supported and funded and sent his Disney artists to for training, joined the Los Angeles Conservatory of Music. Walt combined all facets of the arts (dance, art, music, drama) into one university he named CAL ARTS. He also wanted to teach there.
In May 1966, Walt donated a Disneyland ride - Midget Autopia - to his hometown, Marceline, Missouri. This was the only ride ever moved.
On November 2nd 1966, Walt was diagnosed with lung cancer and on November 7th he had an operation, which removed his left lung, but the cancer had already spread.
As a result of his illness, Walt died at 9:35 am on December 15th 1966 and was creamated.
"The Jungle Book" was the last animated film that was in production while Walt was still alive.
Despite Walt's death, Roy planned on finishing his brother's dream: Disney World. It opened in October 1971 and was renamed "Walt" Disney World. Sadly, though, 2 months later, Roy died of cerebral Hemorrhage.
Walt's son-in-law, Ron Miller, created a new movie division called "Touchstone", in order to produce more "adult" themed movies such as "Splash" in 1984. He also created the Disney Channel.
Beginning in 1984, the company was led by former President of Paramount Pictures, Michael Eisner.
Walt's brother Ray died in 1989.
Sharon died in 1993.
Ruth died in 1995.
Lily died in 1998.
Home • Walt's Bio • Walt's Family • Walt Quotes • Links
©2003 Life of Walt Disney
Danielle Winton